Article: What is the best size of amber necklace?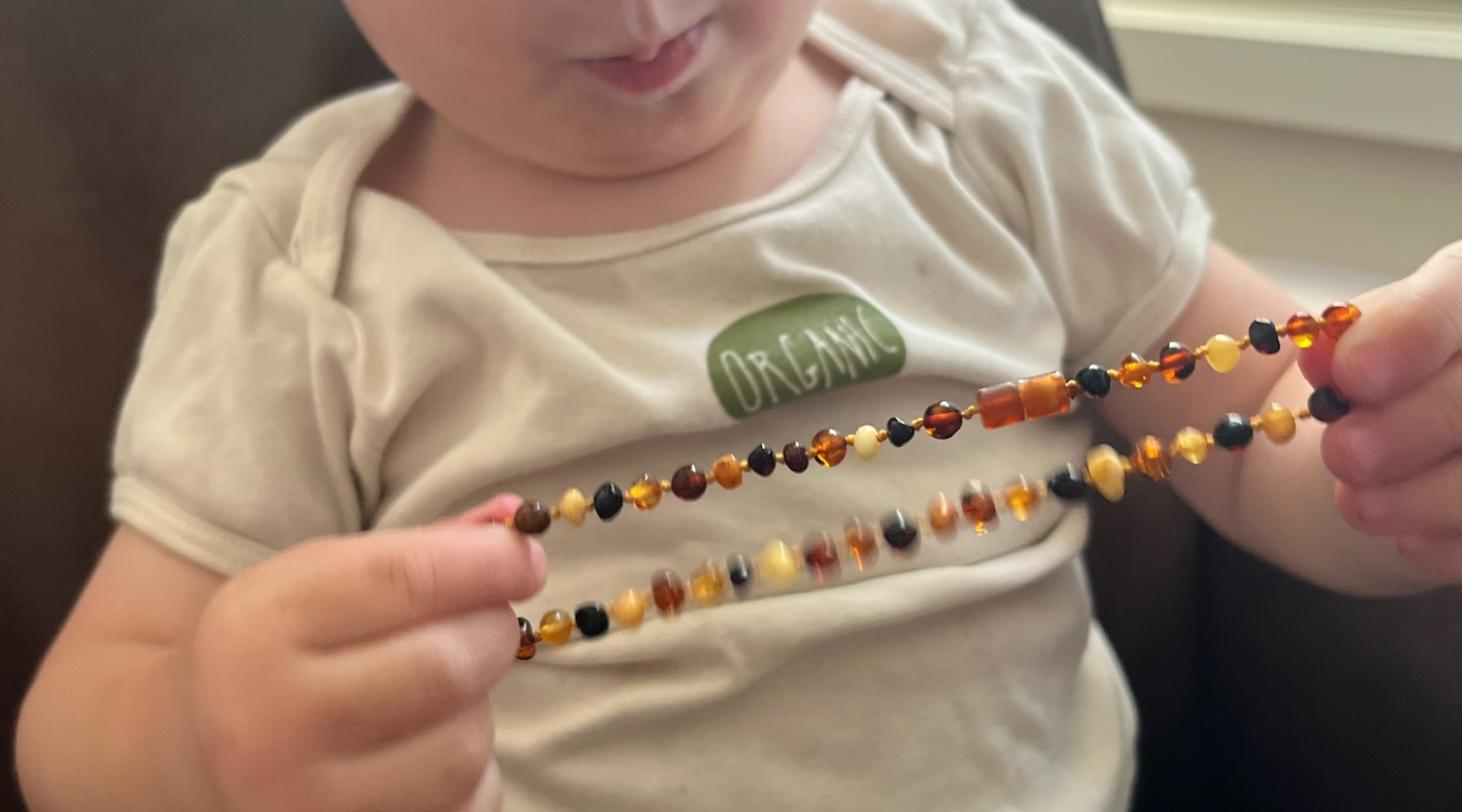 What is the best size of amber necklace?
You are ready to invest in a certified Baltic amber necklace and you are wondering, "What is the best size Baltic Amber Necklace to purchase for my child?" It's a great question–an important question! Ecopiggy is here to help you answer that question.
First, let's acknowledge that everybody is different. Toddlers come in a variety of different sizes, and let's not forget that the count of chins on some babies are in the multiples–and we love them for it! It's important to find a fit that is not only comfortable for your child, but also safe.
Do you intend to have your child wear the Baltic amber as a necklace, bracelet or anklet? Ecopiggy amber teething necklaces come in two sizes 11" and 12.5", and can be worn around the neck, or doubled around the wrist or ankle. To determine which is the best size Baltic amber necklace for your child, use a piece of string to measure the circumference of their neck, then add two inches. Adding two inches will ensure the most comfortable and safe fit!
It is important to remember that the necklace should NOT be long enough for the child to reach it into their mouth. Certified Baltic amber is fossilized tree resin and is not strong enough to be compressed between new sharp teeth. The benefits of Baltic amber are received through the skin of your child. As the amber warms against your child's skin, the body heat causes trace amounts of natural oil to be released. With this in mind, it is recommended that the necklace be worn under clothing, against skin, rather than over clothing. Wearing the necklace over clothing will prohibit the benefits of baltic amber reaching your child.
Another tip for determining what is the best size of Baltic amber necklace for your child is to have no more than two fingers between the necklace and your child's neck. While Ecopiggy Baltic Amber Teething necklaces come in two sizes, please keep in mind that they are lovingly handmade, and may vary ever so slightly from 11" and 12.5".
Ecopiggy recommends that your child only wears the necklace while supervised by an adult. Remove the baltic amber necklace prior to sleeping or bathing.