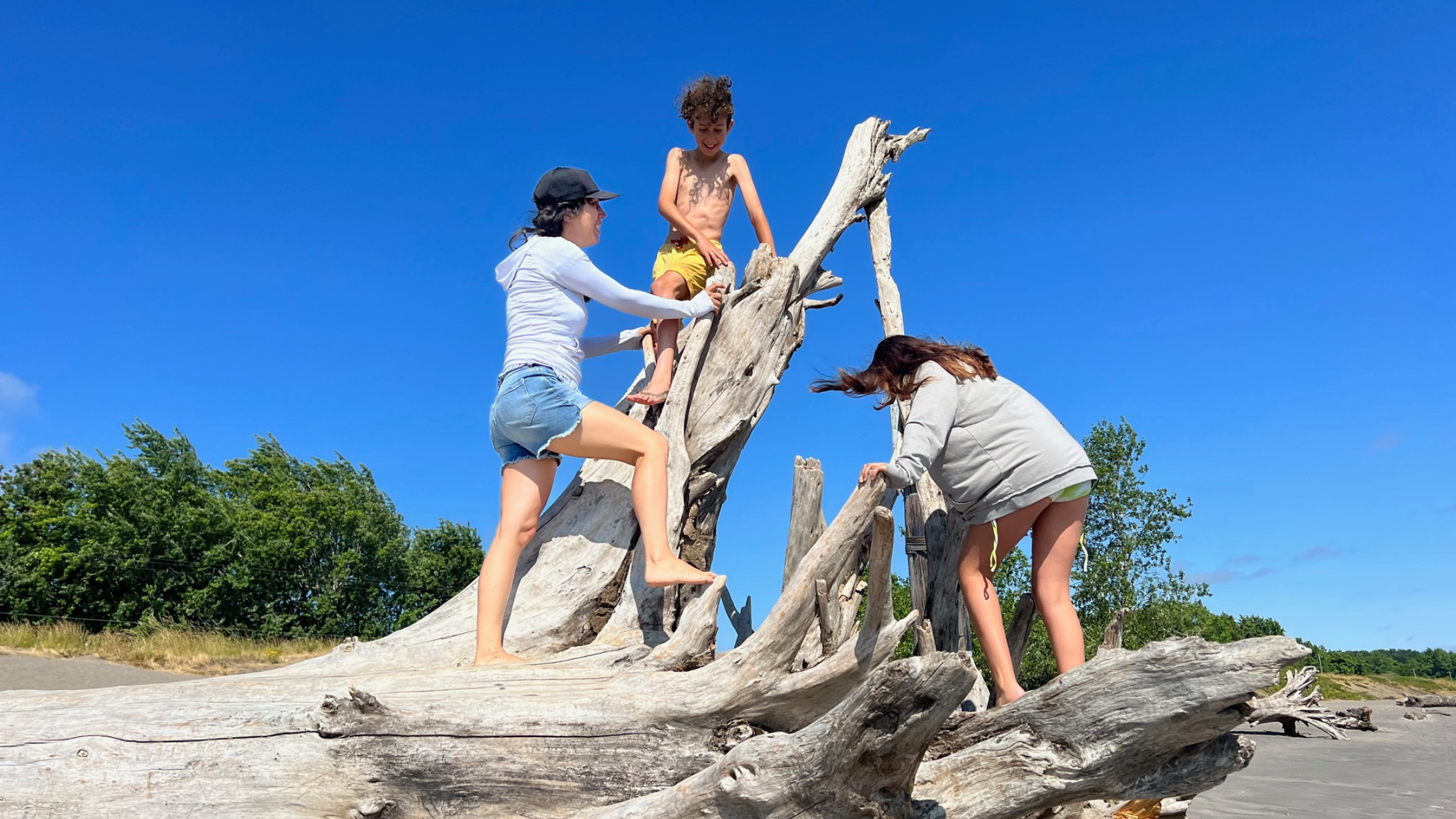 Family Fun Weekend in Portland
Are you looking for an exciting and memorable family weekend getaway? Look no further than Portland, Oregon! With its vibrant culture and stunning natural beauty, Portland offers an array of activities and attractions that are perfect for the whole family. Whether you're exploring the great outdoors or enjoying the city's family-friendly attractions, Portland has something for everyone. Get ready to create lifelong memories on your Family Fun Weekend in Portland, Oregon!
Connect with Nature
* Sauvie Island
Start your weekend with a visit to this peaceful island. Sauvie Island is just 10 miles northwest of downtown Portland, and offers a tranquil escape from the bustling city.  Don't forget to stop at the The Cracker Barrel Store to purchase a day use parking pass, if you plan to enjoy the beach or explore the hiking trails.  Sauvie Island offers everything from bike riding to beach play to u-pick farms.
U-Pick Farms offer everything from haunted corn mazes to an abundance of berries to freshly made lemonades.
Beaches are sandy and inviting! Sauvie Island is one of the largest river islands in the United States, and the largest island along the Columbia River. Be sure to wear your swim suit, you'll definitely want to kick off your shoes and play in the water. We arrived by 9:30 and found we had the beach mostly to ourselves. 
Hiking and Biking are a nature-lovers joy on this island. Whether you do the two mile Wapato Access Greenway State Park Trail or explore a longer trail, you are likely to see bald eagles along with a dozen other bird varieties.  
Engage in Family-Friendly Activities
* Hopscotch Immersive Art Experience
Let your little ones unleash their creativity and curiosity at the Hopscotch Immersive Art Experience. This interactive museum showcases 14 immersive installations that will invite and elicit a sense of joy and wonder for all.  I'm not sure who enjoyed it more, our kids or us adults.  Explore the curated art, light and sound experiences designed by local, national, and international artists--awaken the senses beyond daily reality.
The café had the most creative lounge menu of drinks and food—created by local food artist, Top Chef Sara Hauman.  We ordered as we entered the exhibit, walked around with Diodic Daydreams and Medusa drinks while we awaited the most creative loaded waffles and popcorn treats.  Imagine a waffle made from tater tots and loaded with tobiko caviar, cheddar cheese and bacon bits!  #mindblown  The kids favorite were the popcorn smores. 
* Washington Square
The Lego store in Washington Square is always a must-stop for creating personal mini-figures!  Three personally created mini-figures, each with their own accessory, are $9.99 for the whole set.  It's fun moment to pause and get creative—build yourself, a band of misfits, or whatever your imagination can dream up.
 Washington Square is the Pacific Northwest's premier shopping center with a diverse selection of over 170 premier apparel and popular digitally native brands including Nordstrom, Apple, Peloton, lululemon, Blue Nile, Pandora, Lego, Pottery Barn.  There is something in this mall for every member of the family. 
Don't forget to stop outside of Din Tai Fung and watch through the big windows as their team builds several types of dumplings.  Shaped by tradition, crafted by hand, its mesmerizing to watch—and even yummier to taste, although we did not on this trip. 
* Movie Theaters
Portland movie theaters run the gamut from funky and vintage to swanky and stylish, offering up quite the assortment of food, drinks, and films—new releases, indie films, reruns of classics, and more.
Indulge in Delicious Food
* Conveyor Belt Sushi
This is always a favorite for our family.  Conveyor belt sushi, or sushi train, is a convenient and affordable type of sushi restaurant characterized by the conveyor belt that winds through the restaurant. The conveyor belt carries plates of sushi past the diners, who can take whatever they wish.  At Sushi Hana plates are $2.45 and $2.95 each.  An affordable and fun way to explore new flavors. 
* Afuri
Our family loves ramen, and Afuri's attention to each detail right down to their water source makes all the difference in the flavor.   From ramen to karaage to their buns, everything is so delicious!  They also have a wonderful kids menu. The $6 kids ramen is the favorite for our children, with $3 edamame to share. 
* Food Carts
Portland is famous for its food carts, offering a wide range of cuisines and flavors. Take your family on a culinary adventure by exploring the different food cart pods scattered throughout the city. From gourmet burgers to international delicacies, there's something to satisfy every palate.
* Voodoo Doughnut
No trip to Portland is complete without trying the iconic Voodoo Doughnuts. Known for their unique and creative doughnut flavors, this quirky doughnut shop is a must-visit. Let your taste buds go wild with options like the Bacon Maple Bar or the Voodoo Doll doughnut.
* Farmers Markets
Immerse yourself in the local food scene by visiting one of Portland's farmers markets. Here, you'll find an abundance of fresh produce, artisanal products, and delicious treats. It's a great opportunity to support local farmers and discover unique flavors that are sure to delight your family's taste buds.
Our Itineray
Here is a visual of our Family Fun Weekend in Portland, Oregon:
Have a Blast in Portland!
With its combination of natural beauty, family-friendly activities, and delicious food, Portland, Oregon, is the perfect destination for a Family Fun Weekend. From exploring the great outdoors to indulging in mouthwatering treats, there is something for everyone to enjoy. So pack your bags, grab your loved ones, and get ready for an unforgettable weekend in the beautiful city of Portland!